For Sale
Odds & sods I have to sell. Contact me to confirm availability and price to ship to your country.
Postage is through Royal Mail, and all prices are listed in GBP. Payment would be through Paypal. The second (larger) price in the tables includes Paypal fees, in case you don't feel comfortable "sending to a friend".
---
CoCo 3 512K SRAM upgrade
Working prototypes. There was a minimum PCB order, so these are my spares offered at little more than cost price. Hand soldered - don't expect them to look super professional, but they've been tested as working on my PAL CoCo 3!
As described here: https://gitlab.com/sixxie/cc3-512k.
2 boards available (I probably do have the bits to solder up a third if there are really that many people that want one). Base price £17.50, so total price incl. shipping:

UK
        UK Standard 1st Class                £18.79     £19.63
        UK Standard 2nd Class                £18.46     £19.30
        UK Tracked 48 w/ Signature           £21.94     £22.88
USA
        International Tracked & Signed       £27.05     £28.68
Australia
        International Tracked & Signed       £27.10     £28.73

---
Dunjunz for Dragon & Tandy CoCo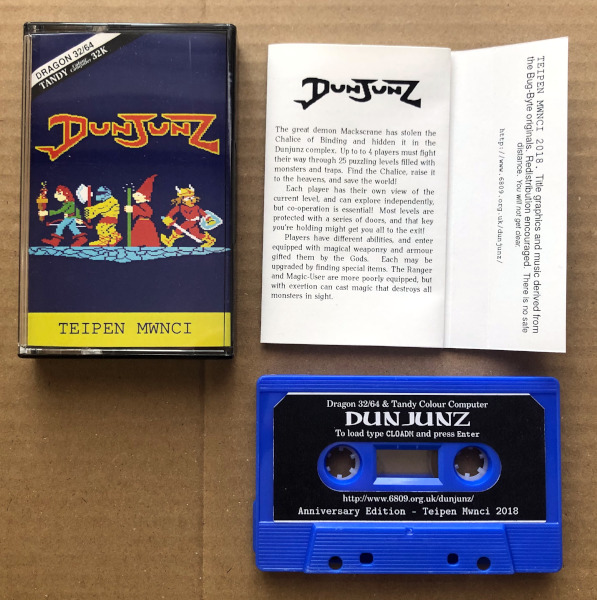 Professionally-made cassette tapes of my rewrite/port of Dunjunz. A hobbyist fan-made port based on someone elses game, so selling at cost price.
Details here: https://www.6809.org.uk/dunjunz/
14 tapes available. Base price £4.15, so total price incl. shipping:

UK
        UK Standard 1st Class                 £5.44      £5.90
        UK Standard 2nd Class                 £5.11      £5.56
Europe
        International Standard                £7.20      £7.74
        International Tracked & Signed       £12.70     £13.43
Australia
        International Standard                £8.15      £8.85
        International Tracked & Signed       £13.75     £14.72
USA
        International Standard                £8.15      £8.85
        International Tracked & Signed       £13.70     £14.67