The Nintendo Entertainment System Controller
---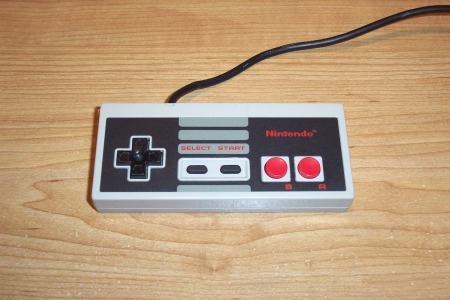 Descended from a mixure of arcade controls and Nintendo's Game & Watch, The Nintendo Entertainment System controller is the daddy of all modern console controllers. I'm sure someone will correct me if I'm wrong, but this controller was possibly the first console controller that featured the still standard "hold with both hands and control with both thumbs" configuration. It's the controller from the system that resurrected home-video games after the big crash of 1983 and was also the system to own during the mid to late 80s.
Originally released in Japan as the Famicom, it came later to North America in 1985/1986. The Famicom controller design was a slightly different than what we saw on the NES.
Functionally, it features two action buttons, two menu buttons (select and start) and is the home console introduction of the cross-shaped control pad (originally developed for Nintendo's Game and Watch hand-held games). Nintendo patented that cross design, which is generally why most everyone else's controllers feature slightly different directional pads.
---
Ancestors - Nintendo Game and Watch, Arcade Joysticks, Atari 2600
Back to family tree
Descendants - Sega Master System, NES MAX, NES Advantage, Nintendo Game Boy, NEC TurboGrafx-16, Nintendo Super Family Controller (prototype), Super Nintendo, Nintendo Virtual Boy, Retrocon, Nintendo Wii
---

Click here to return to Sock Master's Web Page.