The NES Advantage Controller
---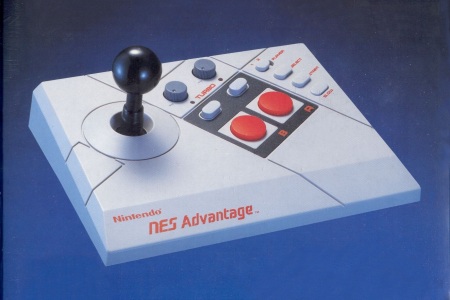 The NES Advantage is high quality arcade style joystick for the Nintendo Entertainment System. Unlike normal controllers that have miniaturized buttons and controls, the NES Advantage features a large base and full sized joystick and buttons.
To give the players even more advantage the controller also feaures two independently adjustable Turbo buttons, which are rapid-fire versions of the A and B buttons. In addition, there is also a Slow button which enables auto-triggering on the Start button; the effect of which is to rapidly pause and unpause - making the game play in slow-motion.
One novel feature of the NES Advantage is the Player 1 2 switch. This allows you to share your advantage with another player by taking turns using the same controller without having to plug and unplug cables.
---
Ancestors - Nintendo Entertainment System, Arcade controls, GCE Vectrex
Back to family tree
Descendants - Super Advantage, Neo-Geo AES
---

Click here to return to Sock Master's Web Page.