The Nintendo GameCube Controller
---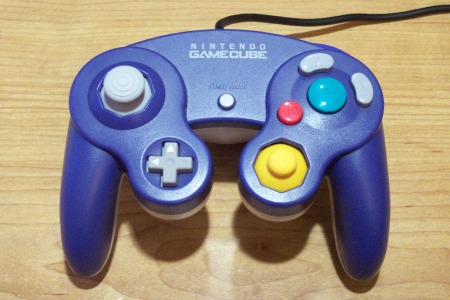 After the innovative but complicated Nintendo 64 controller, Nintendo set out to make their next controller as intuitive and easy to use as possible. They succeeded, but maybe they went a little too far in that direction.
The GameCube controller is possibly the most comfortable and intuitive controller of the current generation of consoles. Unfortunately, in the quest to make things simple for the player, the controller features fewer buttons than the competition (namely Playstation 2 and Xbox.)
The expansion bay is gone, but vibration is now built-in. The C buttons have been replaced with an analog C stick. The controller has four main face buttons, but arranged in a new way with the A button in the center and the B, X & Y buttons surrounding it. In a late design change, the Z button was oddly positioned above the R trigger. Originally, Nintendo was not going to include it, but game developers asked for it to be put in.
The main innovation is in the L & R triggers. They're analog, but after their full travel there is an additional 'click' if the buttons are depressed further. This serves as two additional buttons on the controller without the need to actually add physical buttons.
Also check out the evolution of the GameCube controller in these photos of prototype controllers (Prototype 1, 2, 3).
---
Ancestors - Nintendo 64, Sony Playstation Dual Shock
Back to family tree
Descendants - Nintendo GameCube Wavebird Controller, Nintendo Wii Classic, Nintendo Wii
---

Click here to return to Sock Master's Web Page.