The Microsoft Xbox Controller S
---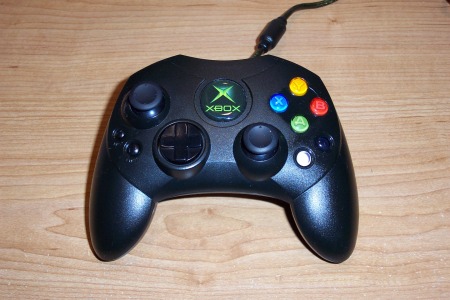 The original American design of the Xbox controller was deemed to be too large for the Japanese market, so Microsoft hired a design firm to create a smaller version of the Xbox controller specifically for the Japanese launch of the Xbox.
The functionality of the controller is identical, but some of the buttons had to be relocated to make the controller smaller. The new button locations were even less intuitive than the original locations, but it turned out that those buttons were rarely used in-game - perhaps as a result of their inconvenient placement. The directional pad and analog sticks were also improved in this redesign.
In what has perhaps become an industry first, the original Xbox controller has largely been abandoned in favor of the Controller S, which has now been adopted as the controller of choice.
---
Ancestors - Microsoft Xbox, Sony PlayStation Dual Shock
Back to family tree
Descendants - Microsoft Xbox 360
---

Click here to return to Sock Master's Web Page.